Emojis are the universal language of the digital age, but this is not an inclusive club. For many these image-based characters don't represent them, or their family members who may be living with a disability. Apple have responded by introducing avatars that represent these disabilities such as hearing aids, wheelchairs, prosthetic limbs and guide dogs. This is set to address the under representation of disabled people, as well as a wider range of mixed-gender and ethnicity couples for users to choose from. With the addition of the new emojis that are emblematic to users' life experiences, it will help adopt a diverse culture, one that is inclusive of disabilities.
Disability rights campaigner, Phil Talbot at Disability Charity Scope, has welcomed the introduction of the new emojis stating, 'Love them or hate them – emojis have become part of our everyday digital lives…Social media is hugely influential and it's great to see these new disability-inclusive emojis.'
From this, it would be great to see all parts of the media including social embracing and including disabilities across their platforms. Apple, Samsung and Microsoft all use the emoji keyboard and have a huge influence on social media as we know it. With these corporate giants creating the inclusivity of disabilities and many other diversities, we will hopefully see growth in the awareness and understanding. It's small progress, leading to great things.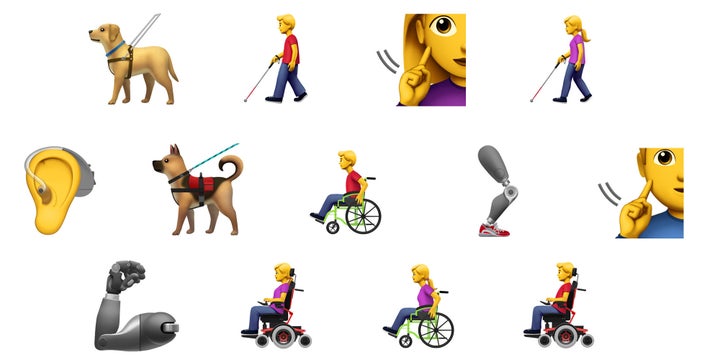 Here at Connect Design we think it's great to see Apple and the other big tech giants introduce these emojis. Let us know by leaving a comment, what you think about these new accessibility emojis? Now they have introduced a select few, what other accessibility emojis would you like to see?