A beginners guide to Alternative Text
The world we live in is full of text – be it on our mobile phones, social media, newspapers or print, there is no escaping it! But how does someone with a print or visual impairment access this wealth of visual information? One answer is the use of Accessible PDFs and Alternative Text (also known as 'alt tags' or 'alt descriptions') in content. This blog aims to provide a brief introduction to what Alternative Text is and what it can be used for.
So what is Alternative Text?
Alternative text (Alt Text) provides a description and appearance of images so that text-to-speech technology can be used to enable users to access content in documents and webpages using screen readers. It can also be used to make sure complex scientific or mathematical terminology reads correctly when using screen reader software.
Who uses it and why?
People with print and visual impairments have the right to access the same information as anyone else. However, if an image is used to convey a message this is obviously denying them access. The print impaired student who wants to extract data from a graph needs an alternative method to locate the relevant information.
Many blind and partially sighted users will use screen reader software such as JAWS and NVDA to access electronic digital materials on screen. Without Alternative Text, the screen reader will not be able to access the image, simply passing over it.
Where is it used?
Alternative text is used for website content and Accessible PDFs. It can be used in educational establishments, businesses, libraries and at home. Basically, wherever the user can access the relevant technology.
How and when is it used?
Alternative text is mainly used for image descriptions. However, if an image on a web page or in a document is purely decorative, there is no need to add a description. For educational purposes, a visually impaired student may be learning about bar charts. Without adding Alternative Text to the image below the screen reader would not recognise or read the information in the chart. Adding a description of the bar chart in Alt Text would enable the student to access the information it contains, just as their classmates can.
The description could read: The diagram shows a simple bar chart. The horizontal axis is labelled Years and is marked in units from 1989 to 1993. The vertical axis is labelled Profit (million $) and is labelled in units of 10 from 0 to 50. There are 5 bars of different heights rising from the horizontal axis.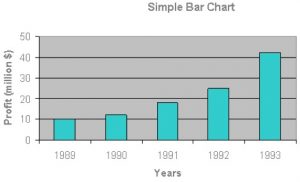 For this image, the description could read: The image shows a carton. The writing on the carton reads, Fresh Milk, 500ml.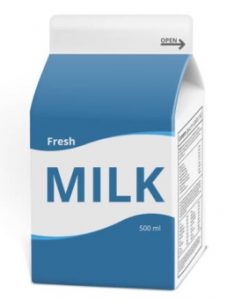 These are just some examples to demonstrate how useful Alternative Text can be.
Want to know more?
Connect was initially founded over 25 years ago to provide transcription services and promote accessibility, allowing everyone to achieve. Our transcription services include braille, large print and digital accessible formats using Alternative Text.
Connect Design can provide fully interactive PDFs, ensuring that your information meets the required standards and can be accessed by all end users. Our specialists ensure that your documents or forms in PDF format are validated to meet Section 508 and Web Content Accessibility Guidelines 2.0.
To find out more about how we can provide accessible PDFs for your business, please get in touch.
Get in touch